New website for your club?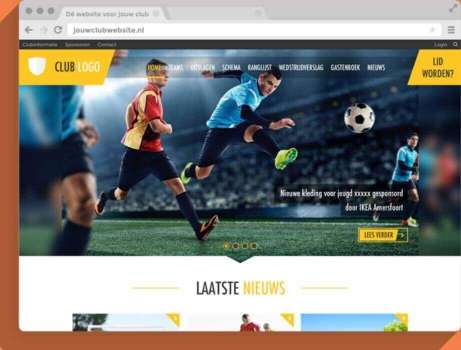 Your website is the digital business card of your association. With a Search Engine Optimized (SEO) website, it will become effortless to find more information online. Which will result in an increase of potentially new members and/or sponsors.
So are you completely out of play with your current soccer, tennis or hockey club website? Or are you just curious about the variety of possibilities of a new website for your club?
We offer you a service package that will help you maintain your website without hassle and worries. We will take care of the technology and the design, so that you only have to worry about the website its content.
Down below you'll find an example website, that we've created to demonstrate the variety of possibilities that we have to offer.
Check Demo Website
More info?
Comprehensive functionality.
With our service package we offer you a personalized club website. It will be just as you've envisioned it and will allow your club to flourish and stand out. Sport is a beautiful thing and together we will give your website the same appearance!
Below you'll find an overview of the services that we've to offer:
Fast
We take pride in delivering content with high quality. The websites that we create are optimized to show its content without unnecessary delays.
Easy editable
The core of our website is built on Wordpress. Wordpress is simple and user friendly. Wordpress can be compared with Microsoft Office Word. If you've used that, then maintaining your website with Wordpress should be a piece of cake.
Our websites are fully responsive. The website will be functional and optimized to display on any screen (Android and iPhone devices, tablets and desktop computers) along with any internet browser (Internet Explorer, Safari, Google Chrome and Firefox).
Findable
"You have to aim right, before you shoot to hit the target". In order for users to find your website, you need to tap into the right market. Therefore by default we develop your website optimized for search engines to receive the correct and constant flow of traffic.
Flexible
Our websites are structured, so that you can edit and change the website's look however you want, whenever you want. From the color scheme to the actual content structure, everything is setup at your fingertips. For example, you don't like the slideshow at the top of your site? You can easily remove it by pressing delete on it. Would you rather display the club sponsors at the top of your page, it's as simple as drag and dropping it.
Technical maintenance
When you choose our Plus package. We will reserve the time to update your website on a monthly basis, have weekly back-ups and protect you from any and all hacking attempts. We will ensure your safety and minimize the chances of 3rd-party intruders with malicious intent.
Our Prices.
With our club website service we offer 2 options.
BASIC package:

We will design your website from scratch. This package does not include a hosting provider, weekly back-ups or technical support/maintenance.



PLUS package:

We will design your website from scratch. With the PLUS package you will receive the following from us: a hosting, weekly back-ups and technical support and proper maintenance. We will ensure that your hosting and e-mailing services are taken care of. On top of that, we will dedicate personnel to keep your website up-to-date. The website will be secured from any and all 3rd-party intruders. All that there is left for you to do, is fill the website up with your desired content!
Search engine optimized
Competition schedules and results
Free video tutorial
Agenda
Managing your member registration online
Custom made teampage
60 minutes of technical maintenance and support
Storage
E-mail accounts
monthly costs